My sister-in-law has been working with dental clinics since forever. One day we were speaking about Google ads for dentists, and the discussion went to promotions.
She was describing the style of promotions I bet you've seen a million times in the wild: get a free dental exam and a $100 voucher for any procedure.
Sometimes it comes without the voucher or in other variations, but the free exam is a classic. If you're about to run Google ads for dentists, that type of offer is a good place to start.
In this article, you and I will dive into popular dental services and Google ads to discover which ones are a good match… and which ones to stay away from.
The secret to making Google ads for dentists work
Before we even get to Google ads, we need to figure out which service we'll promote as patients tend to react differently depending on whether it's a cosmetic or medical service. I like to break it down into two categories:
Ads for classic medical services related to pain (i.e. fixing a root canal)
Ads for painless cosmetic services (braces, teeth whitening, etc.)
Provided a patient's budget or insurance allows, they usually want to get tooth pain taken care of right away. They'll contact their preferred dentist directly, ask a friend for a recommendation, or turn to the internet to search for a solution.
On the other hand, for services without tooth pain (cosmetics for example), patients tend to take their time and shop around more.
Google ads for dentists offer a ton of ad formats, banner sizes, placements, and whatnot. In fact, even for an experienced marketer it can feel like a headache to keep up with the changes.
The majority of your work is done when you figure out which service you'd like to promote and how to best reach the right patients for it. That combination will make the confusing Google ads-jungle easier to navigate.
Let's look at Google ads and medical services involving tooth pain first.
Most Google ads for dentists are not a good fit for medical services
Making pain go away is often the driver that gets patients off their asses to fix something they would've otherwise postponed.
It's hard to intercept them if they're calling their favorite dental clinic directly, or asking a friend for a referral, but reaching them as they are searching for a clinic is a match made in heaven.
Since you discovered this article, you're probably familiar with Google search ads. As the name suggests, these are sponsored text results you'll see when searching on search engines.
These ads are effective and popular, but expensive.
Google search ads for dentists: a match made in heaven?
The end-all-be-all is picking the right keywords to show up for as those tell us where a potential patient is in their journey to booking an appointment.
The most common reason Google ads for dentists don't deliver the results you've seen hyped up everywhere is that they've accidentally been placed on keywords where users are researching information rather than ready to book appointments.
Fortunately, the solution is simpler than you might think: search the keyword and see what shows up in the organic results (after the sponsored ads).
Is the content in the organic results the same as in your ad or landing page? If not, there might be a mismatch between what the potential patient is looking for and the ad they're seeing.
A common example is making an ad leading to an appointment booking form but placing it when users search for keywords like "toothache".
Rather than booking an appointment, patients are likely looking to figure out what's causing it and what to do about it. Instead, leading them to a short quiz where they can get a sense of common issues before you offer them a free consultation or exam can be powerful.
There are also more obvious keywords like "dentist near me" or "dentist in london" that tend to be better suited for direct bookings. The tricky thing with these is that they tend to get competitive and expensive because they work well, and even though they might cost a lot, there's no guarantee that they'll work for you right away.
Google ads for dentists is a trio and beyond search ads there are also display ads and Youtube ads.
Let's look at display ads next.
Google display ads: a tough nut to crack
Display ads are your common image ads seen on most sites with ads. They are not limited to images, but that's what's often used.
They are shown on Google's partner network that anyone with a blog or app can sign up to be a part of. These tend to be the hardest type of Google ads to convert into patient bookings as you have to get both the partner (app or website) and the specific ad's placement on the site to fit your message.
For example, you might interrupt someone with an ad mid-article while they're reading about tooth pain. They might ignore the ad and finish reading the article first, but by the time they're done, they've forgotten all about the ad.
There are ways to squeeze good results out of these ads by targeting a website individually, figuring out which placements are best suited, and only using those. It's a lot of work, so most dental advertisers don't bother when promoting medical procedures and purely use them for retargeting instead.
If you aren't familiar with retargeting ads, it simply means to re-target an audience you already have access to, such as your existing patients or those visiting your website.
Finally, there are Youtube ads.
I'm sure you're familiar with Youtube and its video ads already. Getting results here is all about placing ads around the right videos based on why someone might be watching it.
To put it simply: it's hard to target potential patients with tooth problems by the videos they watch. A lot of content is either entertainment users watch because they are bored, or it's how-to videos helping them solve a specific problem.
Retargeting ads are often used here as well.
How to drive bookings for cosmetic services with Google ads for dentists
With dental services like braces or teeth whitening that aren't driven by pain relief, chances are that many of your potential patients have considered it but are putting it off.
While the pain tends to get medical dental patients to act, the game of cosmetic dental services is all about getting patients to act NOW instead of putting it off again.
The most popular approach I've seen is to create urgency in the shape of a limited-time-only discount.
If you've been following the blog, you know I'm not a big fan of discounts. It's the laziest clone of what everyone else is doing and tends to attract discount-hunters rather than loyal patients.
A slightly better choice is announcing that the prices are about to increase with a last chance to get in before. This can work, but only once in a while as you can't fake it and you also can't increase your prices all the time.
Instead, I've found targeting potential patients with big upcoming life events to be more powerful. If they've been thinking about teeth whitening, for example, this might be a good time for them to pull the trigger on that Colgate smile.
Google's display ads currently offer us to target people who are getting married soon – maybe they wanna look good in their wedding pictures.
An alternative is targeting people starting a new job soon. They might want to make a good impression as it can impact their career.
Another alternative is to target people who just moved to a new city and are looking for a new dentist. You could even make an offer just for newcomers to the city.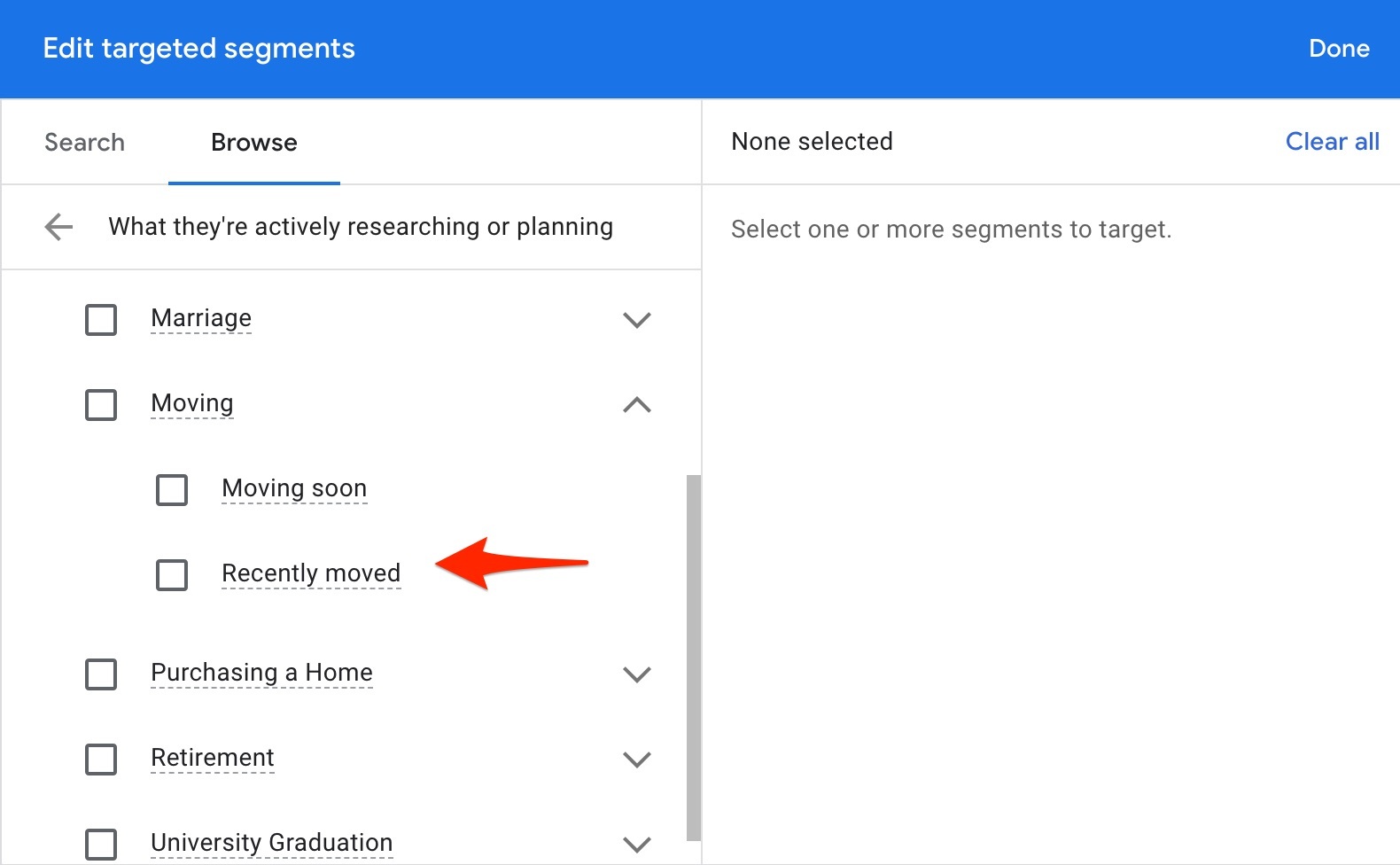 Display ads are easier to make work with cosmetic services beyond just retargeting, if you can get patients to act when they see the ad.
Speaking of retargeting, Youtube ads tend to follow display ads for these types of services. It's hard to find relevant videos to place ads around, so you might just want to stick with retargeting unless you're looking to scale an existing campaign that is already working well.
Search ads: a powerful friend
Search ads can work well for these types of services too, as there are already people searching for teeth whitening, Invisalign, and other types of braces.
You can compete on both specific brand name terms (i.e. "Invisalign"), geographical terms ("teeth whitening new york"), but also less popular ones like "best teeth whitening options".
The latter might be less obvious, but combined with area targeting in your neighborhood, it can be just as powerful provided you create content that answers what the future patient is looking for before leading them to a booking.
Takeaways
Google ads for dentists are powerful provided you combine the right type of ad with the right dental service. The ad format, whether text, image, or video, is less important than making sure you reach the people you intended to reach
Google search ads and medical services are a great fit together, whereas with cosmetic dental services, you have flexibility with Google's other ad platforms
Rather than choosing the easy way out and offering a discount, targeting people with big life-changing events can be more powerful and attract better quality patients that refer more patients if they have a good experience
Does Google ads work for dentists?
Yes, Google ads work well for dentists. That being said, there are many different configurations that can lead to poor results. For example, many dental offices get more bookings by configuring their ads to run on Google search rather than Youtube (which is also a part of the Google ads platform).
How do I get Google ads results for dentists?
In order to get results with Google ads for dentists, you'll need to spend most of your time configuring your campaigns to reach the right people. Because Google offers so many different ways to reach potential patients, it can be surprisingly difficult to accurately reach those you intended (without also reaching).
What is the new Google ads service they launched for dentists?
In early 2023, Google ads allowed dentists to use their local service ads. With them, you might pay per lead instead of per click which can make it easier to use Google ads if you aren't digital marketing-savvy or work with a partner that can run the ads for you.
Do dentists need digital marketing?
No, dentists don't need digital marketing to get patients in the door, but it can help, especially because it tends to be more affordable than other types of marketing and advertising in the long run.